Cameron is all about shoes right now. You know those clunky, badly made, high-heeled Princess shoes that little girls always want to wear, and usually out in public? (Suri Cruise?) Well, Cameron thinks that she wants to be one of those girls. And, I will admit I love that she is a girly-girl, because I was a girly-girl, and still am, but I get hesitant when wanting to let her wear the high-heeled shoes out into public. But, I found out the key to the shoe success. Cameron isn't drawn to the heel part of the shoe, but the shiny, sparkly, and usually pink or purple something on it. And if you call them "Princess Shoes", then it is settled she wants them, and has to have them. So, I gathered up all the pink and sparkly things I could find from my collection of crafting supplies, and then "bedazzled" a cheap pair of white shoes. And I know, I know, you're probably laughing right now. I did say "bedazzle"! Was "bedazzling" actually a hit ever, and should it ever be done? Yes! Because all little girls can rock the bedazzlement.
Ignore the gem glue in the photo, I ended up using a hot glue gun. Gem glue will work,
but I had just found out after the photo was taken that the glue was gone. Silly me!
Have fun, and decorate as you please. And if feeling extra creative, let your daughter decorate the shoes herself. Well, let her choose where the gems can go on the shoes. They could come out pretty awesome.
Remember to hold the gems down for 15-20 seconds to make sure that they are sticking.
This was my "1st" finished product. I say first, because I was not thinking when placing the gems in the spots I chose. The large dots along the strap obviously did not work out. I immediately had to remove them, because when trying to put the shoes on I could not pull the strap out. Woops! My mistake! But the "2nd" finished product is shown below.
They look adorable with socks, and even without socks!
Cameron with her new shoes! She was excited to wear them with her new St. Patrick's Day dress!
What I'm Loving This Week: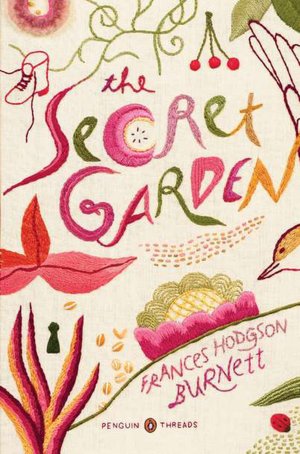 "The Secret Garden"
Hand Embroidered Penguin Classic
Embroidered by: Jillian Tamaki
As you all know I love to read, and even better than a good book, is a beautiful book. A hand embroidered book that has so much detail. It makes the book that much more important!
I can't wait to get ahold of this book.
"Black Beauty" and "Emma" are also available from Jillian Tamaki's self-embroidery.